Kerala, also known as the 'Gods own country' has been pulling in a lot of tourists every year. The scenic beauty, serenity, and pristineness of Kerala are second to none. Be it the beaches, mountains or backwaters, Kerala is truly a heartthrob. Kerala allows you to get immersed in the natural beauty while building a bond with the birds, animals, trees, plants, ponds, etc. The dense forests of Western Ghats are home to a variety of animals and birds and if you are a fan of wildlife, you should never miss out holidaying in Kerala. There are a number of national parks and bird sanctuaries in Kerala. Even for adventurous activities, Kerala is famous. When you are planning on a trip to Kerala, it's the most important to stay in a beautiful place that allows you to enjoy the beauty of Kerala but within your budget limit. The flooding of tourists to Kerala has made the state dotted with resorts and star hotels all through it. There are a plethora of exotic places to stay in Kerala and you can add the ones you like to your tour packages as well. However, many a time people misunderstand good resorts or homestays for being very expensive and avoids it. However, Kerala houses affordable resorts too. I will list down some of the amazing resorts that can be considered cheapest for the view and facilities it offers and you can add it to your tour packages in Kerala.
(Ps. the list is for the month of August and September 2019)
Abad Whispering Palms
This is an awesome resort nestled in the scenic beauty of the backwaters of Kumarakom.  This lakeside resort can truly present you with some beautiful moments in the lap of nature. There are basically three types of accommodation and they are garden facing rooms, lake-facing rooms, and bamboo pool villas. In my opinion, lake facing room will be the best as you can wake up to the beautiful vistas of the calm backwaters fringed by lush green coconut trees and inhale the cool crisp breezes from it. Thus, by staying here, you can enjoy the essence of Kerala backwaters. However, if you wish to enjoy a private pool, you can certainly book the bamboo pool villa and have a great time in the pool as well.
Nearby tourist attractions: Kumarakom bird sanctuary is a tourist attraction nearby this resort which you can pay a visit to. The place is an interesting hunt for migratory birds and is located inside a large rubber plantation estate. It was initiated by an Englishman but today it is managed by Kerala Tourism Development Corporation. Spread over 14 acres of land on the banks of Kavanar river, it's a great place to spend some time. There are also boating facility available through the Kavanar River.  Moorhen, parrot, teal, and lark are some of the most common birds you can spot there.
Paradise Resorts
Paradise resorts are yet another resort in Kumarakom, the very famous backwater village of Kerala. The resort has some really amazing accommodation facilities through which you can enjoy the beauty of Kerala in a better way such as Lakeview cottage, heritage cottage, and houseboats. However, booking a houseboat would be the best as while you sail away through the backwaters you can behold the silver backwaters sparkling endlessly in the tropical sun and inhale the fresh air and delicious aroma of coconuts. The resort offers houseboat stay for such a competitive price of 9000 INR.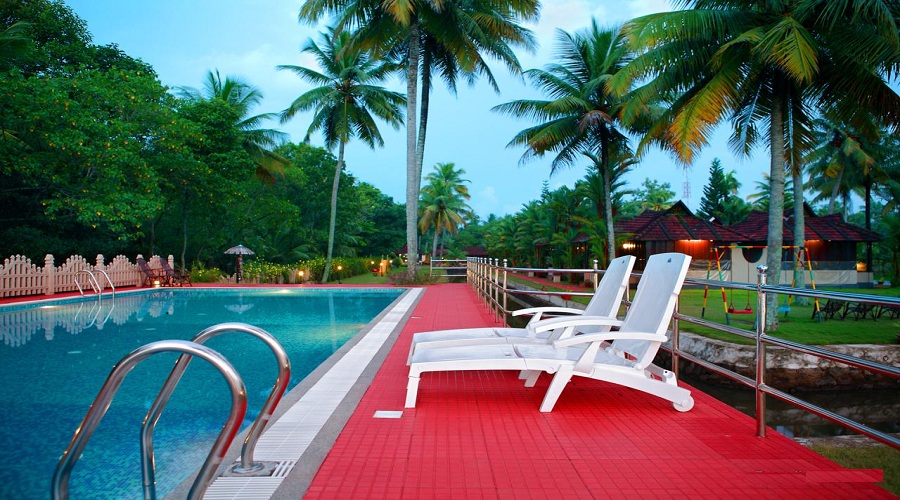 Nearby tourist attractions: You can definitely visit the bird sanctuary. In addition, if you are opting for a houseboat cruising, you can pay a visit to Pathiramanal Island in the lake. Pathiramanal means the sands of night. It's good to go there and get further intimate with nature.
Sterling Thekkady
Sterling is an alluring resort situated in the picturesque Thekkady. They offer a variety of rooms that are warm and furnished in wood. The resort also holds an outdoor pool and a hammock by its side. The place is perfect if your idea of a holiday is simply lazing around in nature.
Nearby tourist attractions: Thekkady is very rich in wildlife. Bamboo rafting and visiting Periyar national park are two activities you should never miss out when in Thekkady. Periyar national park witness the flowing of rivers namely Periyar and Pamba and there is also a boat service through the rivers and if you are lucky enough you can spot wild animals on its banks.
Blackberry hills
Blackberry Hills is everything you need when you are looking for a place to stay in Munnar. The resort is set in 15 acres of land and offers well maintained in house trekking trails. The resort staff will accompany your trekking. The resort also provides tea tasting sessions when you are in the land of beautiful tea estates. They also provide jeep safari rides and mountain biking. All the rooms are below 10k except for one which is slightly over 10k.
Nearby tourist attractions: Munnar is actually a hub of plenty of naturally beautiful spots. Mattupetty dam, Echo Point, and the Tata tea museum. The echo point Munnar is a very fascinating place. If you scream out words, the forest opposite will repeat every word you uttered.
Bluewater beach resort
On the shoreline of Kerala's most the enchanting beach stands the blue water beach resort. Varkala has proved to be one of the most renowned beaches in Kerala with tourists flooding to the place every year. There is a uniqueness to the Varkala beach compared to the other beaches in Kerala. Maybe its because the beach is looked down by a large red sandstone cliff or maybe because its sand is lighter and softer than other beaches. Anyhow the beach is great for swimming, surfing and sunbathing. You can wake up to a spellbinding sunrise amidst the blue waters or have a beachside candlelight dinner.
Nearby tourist attractions: Varkala is close to the capital city of Kerala where there are so many palaces. You can certainly pay a visit to the Kanakakunnu palace, Maharaja Swamy Thirunal palace and Sree Padam palace. There is also a very good zoo near to Kanakakunnu palace which is great to visit especially if you are travelling with children.
LakeRose Wayanad
LakeRose Wayanad is an amazing resort perched high in the hill station of Wayanad in northern Kerala. The resort is situated on the shores of Karapuzha dam and is surrounded by lush greenery. There may not be another place where you can be so close to nature. All the rooms are carefully made with ample privacy. There is also an outside the pool where you can swim and tone your muscles while being surrounded by the dense forests of Wayanad and the Karapuzha dam in the background. The resort is also quite eco-friendly and if you are that sort of a person you should book the Lakeview breathing wall cottage whose walls are made of natural materials.
Nearby tourist attractions: Wayanad is an interesting place for the tourists as there are a lot of tourist activities available in which you can certainly indulge in. Pookot lake is an amazing spot which offers boating amidst the mighty mountains and dazzling shades of green. Kuruva island is another spot where the tourists can have some fun dipping in the freshwater streams. However, as far as the honeymooners are considered, Chembra peak is never to be missed. This is because if you embark on a trekking journey with your partner onto this peak, midway you will reach a heart-shaped pond with crystal clear waters. You can see your reflections on the heart-shaped pond as the pure white clouds float around. In addition, there is something for the history buffs too. The Edekkal caves in Wayanad date back to thousands of years ago, belonging to the prehistoric times.
Gramam homestay
 Its is a beautiful homestay on the shores of Kumbalangi backwaters which is close to the Kochi city and the historic town of Fort Kochi. If you are planning to catch up on the historically intriguing Fort Kochi but don't wish to stay amidst its hustle and bustle, then this could be your best choice. The Gramam homestay has got rooms as well as lakefront cottages where you can have some private time close to nature. Sunrise, sunset, boatman sailing away in canoes, lotus, and water lilies, etc will seem so refreshing to you. The management of this homestay is also yoga enthusiasts that they will provide you with practically oriented yoga classes. Sunset canoe trip is another lovely activity the homestay offers. Apart from enjoying the scenic views from your room windows, sunset canoe trips enable you to sail through the backwaters as the sunset approaches.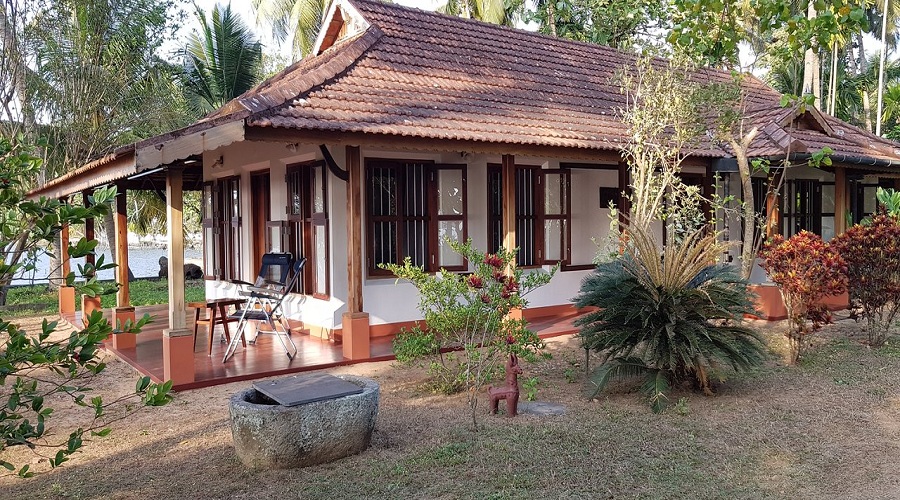 Nearby tourist attractions: You can certainly make a quick visit Fort Kochi and have a walk through its streets that still hold remnants of different cultures of the Dutch, Portuguese, British, and the Jews. Dutch palace and Jewish synagogue are among the must-see spots. Also, if you are visiting in the early half of the year you can visit the great Kochin biennale where artworks of major artists are showcased. In fact, Fort Kochi is added in almost all Kerala travel packages as it is situated in the heart of Kerala.
Wild planet Nilgiris
This is a one of a kind jungle resort in Kerala, more precisely in the Kerala Tamil Nadu border. Every morning the cool fog and mist will make your day. It's a place where you can enjoy all the modern amenities of a hotel while being deep in the jungle of Nilgiris.
Nearby tourist attractions: Mudumalai national park, Bandipur tiger reserve, and national park are two national parks you can explore if you are a wildlife enthusiast.
Rivulet Resort
Do you want to wake up to the hill ranges veiled by emerald green tree shrubs, chirping of birds and fog rolling in and out. Then the rivulet resort can be a great place to stay for you while you are touring in Kerala. The resort has some great rooms with balconies and you will be able to make the most out of Munnar's scenery. Its located in Pallivasal which is 8km from Munnar town.
Nearby tourist attractions: Close to the Pallivasal part of Munnar are Pothamedu, Attukad, and Chokramudi peak. These are all beautiful places. However, if you are coming with children, there is a water theme park known as the dreamland fun and adventure. The park contains some exciting rides for the kids.
Vismaya Boutique Villa
Are you the kind of person who enjoys regional architecture than anything else? Are you looking forward to staying in a traditional house in Kerala? In that case, Vismaya boutique villa is your answer. It's a 400-year-old house built completely in traditional Kerala style which was renovated and restored with care by Swiss-German architect, Karl Damschen. The villa seems like a peninsula in the majestic Vembanad Lake as the three of its side faces the lake. The teak wood works inside the villa is like something of a wonder to the eye. There is also an infinity pool and outdoor bathroom.
Nearby tourist attractions: The villa is in Cherthala and the hotspots near are Alleppey backwaters and the Marari beach. Alleppey backwaters are world-famous and you can enjoy the way it blends with the greenery of Kerala. Marari beach may not be great for swimming but is suitable for going on long walks or simply relaxing on a hammock.
Once you get an idea of where to stay, you would want to have your trip thoroughly planned and for this, you can approach a tour operator. Dream holidays a very renowned tour operator who allows the customization of packages as well. So you can choose the destinations you want to visit or the hotels you want to stay in. Therefore, look forward to having a lovely vacation in Kerala.
Reference for each place of stay is given below:
https://www.abadhotels.com/lakeresort
http://www.paradisein.com/accomodation.php
https://www.sterlingholidays.com/resorts-hotels/thekkady?utm_source=gmb&utm_medium=thekkady
https://www.blackberryresorts.com/index.php/tariff-2/
https://www.lakerosewayanad.com/
http://webcrs.com/ohrs/properties/be-v7-vismaya.php?id=12312353