The aftermath of a tiresome wedding session lasting for a couple of days, we were craving for some refreshing getaways to be spent in any other places. Besides, we were very particular of choosing a location with varied contrasts to that of Telugu cultures, traditions, places and everything. Furthermore, I and my husband had some conditions prior to our trip that it should not be any North Indian locations or boarding any straight flights to the destination.
It was in this instant that I got to know that the hills of Munnar in Kerala were surprisingly laid out by a delicate layer of snow during the past year's winter. The beauty of this whole new version of the otherwise lush green hills was rather astonishing, which would be ideal for a romantic honeymoon. Usually, the state of Kerala is known for its tropical climate with most time of the year drenched in soothing monsoon. Therefore, tourists dropping in Kerala mostly get to visit its backwaters and its golden shores, as they would be readily included in their tour packages to spend their vacations. However, we wished to do something different and explore on our own. We finally decided to travel to the Munnar Hills from our hometown of Hyderabad and that too by road.
Since we only had limited time for our vacation, we set off our journey at a late evening in our own car. Most parts Telgana were covered in utter darkness expect the major towns of Mahbubnagar, Kurnool, Anantapur and Penukonda. Visiting these places in Andra borders were obviously excluded from our list as it was definitely not in our list, as we took the fastest road possible via NH44. Due to the numerous of tolls in the otherwise smooth path, it was almost midnight when we reached in the Electronic Capital of Karnataka, Bengaluru.
Bengaluru was like any other major cities of the country, in terms of their traffic congestion and the fastest growing infrastructure. Due to the time in which we arrived at this vast city saved us from this mess to a greater extent. On the wild path leading to Hosur, we got to realize that yet another state of Karnataka had also been left behind. Just then the name of Hosur just struck and later confused me that, isn't' that the same 'Hosur' in of Karanataka nearby Madikeri. The name was quite familiar to me as I had already visited a Samudri Ganesha Temple located there. However, this was a different place located in the borders of Tamil Nadu and Karnataka.
By early mornings, we reached the scenic locations of Krishnagiri district of Tamil Nadu. Again here too we could not experience the very essence of this beautiful ancient town. Later the first rays of the early morning sun were striking us when our car was very gently approaching towards Erode. Now, we were excited to journeying via the dense forest covers of Udumalpet once covering the temple towns of Thirvachi, Palladam, Avinashi and numerous other ones. We were almost in sync with our calculations of witnessing the dense forest regions of both Anamalai Tiger Reserve and Chinnar Wildlife Sanctuary in broad sunlight. Consequently, we have succeeded in this very same venture also.
Up to these locations, the roads were not much challenging as the paths were laid out in plains. However, once we were about to cross the Kerala-Tamil Nadu borders, you will know about the very nature of the rocky terrains of this part of Western Ghats. Numerous hairpin curves on these roads will truly be testing most accurate driving skills of my husband. But he was definitely not in a mood to give up. Meanwhile, the deep gorges adjacent to the roads scared me.  From my research just before the trip, I had read that Chinnar is the sole rain shadow region in the state of Kerala
In our research, I had already noted down that a waterfall named Thoovanam is situated at this location is a must-visit site. For trekking up to the waterfall, we pulled over our car in the parking area across the Alampetty Check post. The staff at the check post then said that to catch a glimpse of the Thoovanam Waterfalls, we need to trek across the dark jungles for a whole of 4kms. We just felt that we were walking very close to nature at its lap. When the cascading waterfalls were closest to our view, it was indeed a pleasure for our eyes to watch the beautiful sight. The trekking is basically a guided program operated by the State Tourism Department of Kerala.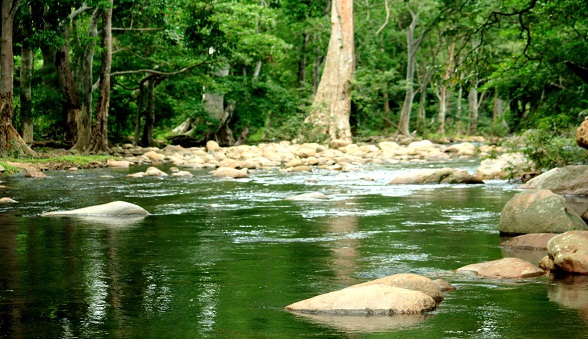 After the witnessing the surprising waterfall, we continued our journey via Marayoor, which has the only natural sandalwood forest among all the forest covers in Kerala. Here also we had to halt our travelling in the car, and had to catch a jeep that would take us to these rare forests. If we had opted for the other options of vacationing through the packages, we did not have to wait much in these kinds of places. But on the other hand, these halting could also give some rest to the former that had been plying all the way from Hyderabad. Along with us, we saw many other tourists enjoying the rich flora and fauna found only in these regions. Apart from that, we got to see a few 'Muniyaras' which are the primitive cabins made of stone. Someone travelling with us on the jeep said Chinnar is home to a giant variety of flying squirrel and can be only be observed if you are lucky enough.
We were departing from the sandal forest covers of Marayoor and saw yet another signboard indicating the path that leads to Lakkam Waterfalls. However, we could not make it to visit them as it was already approaching the dusk. Mounting up to the waterfalls in such an hour will be futile and also dangerous. From there it did not take much to reach the popular hill station of Munnar. While we reached there, the temperature was very chilling and felt exhausted. We sole groped for a space to lie down after the eventful journey.
Before planning for any road trips, it is always advised to book your dates to any efficient tour companies like that of Lelagoon Holidays. By doing so you would be visiting every tourist spots in a location in an organized manner without missing any exciting sights!