Kerala, a minuscule state in the neighborhood of the Indian Ocean, is charming, hypnotic and is blessed with heavenly beauty. The lakes, lagoons, and rivers all set up an unearthly ambiance that stupefies the tourists and honeymooners. The land offers diverse options for every kind of travelers, and the best way to enjoy those is with some fabulous Kerala Tourism Packages, in and around all cities of Kerala. A Trip to Kerala often comprises of a Houseboat ride on the serene backwaters, a visit to Munnar, Visiting some Wildlife sanctuaries, experiencing the beaches, Getting an Ayurveda massages and so on. Are you already bored of hearing all those common and popular destinations?
If you are seeking something new and unique travel experience on your Kerala tour this time, then head out to Kollam with Dream Holidays, who offer ultimate tailor-made packages to make your journeys unique and full of fun and excitement.  Kollam- the northern district in Kerala has served as the trading capital in old times.  This place is blessed with diverse attractions for tourists- forests, lakes, sea, hills and islands, which makes it a perfect spot for monsoon travel.  Kerala is the only state in India, where monsoon happen twice, and it adds a special charm to this wonderful place, and Kollam is no exception. Kollam or Quilon is the land of cashew and amazing backwaters. It has a strong history of commerce and trading and is a perfect gateway to the magnificent backwaters offered by Ashtamudi Lake.  This district offers you everything, from getting lost in to the mystery of nature, enjoying the magnificent backwaters, getting into the heart of rural life in Kerala and so much more.
Kollam- Tourist Itineries Information
Zone- North
Language: Malayalam
Area-2,579 sq.km
Nearest Rail Station: Kollam
Nearest Airport: Thiruvananthapuram
What Kollam holds for the Travelers?
Thenmala- India's first Eco-Tourism Project
Where- 72 km from Trivandrum, Thenmala Village, Kollam(62 km)
Nearest Railway Station: Thenmala
Nearest Airport: Trivandrum
Did you know Thenmala; the first planned Eco-tourism project in India? Well, this place has been heaven for planters for a long time.  As the name indicates it is indeed- the Honey hill, offering sweet wonders of nature.  This small village, that is located in the foothills of Western Ghats, is popular for its unique panorama, Eco-diversity, and well-maintenance by the government and the people here.  You can have organized tour with Kerala holiday packages enjoying the special attractions to see and places to stay in midst of nature.  The tea, rubber and other spice plantations, wildlife sanctuary, equal opportunities for fun, adventure and leisure and getting know the Eco-friendly measures of tourism all make it a unique destination for the travelers.
Eco Tourism Center– The Ecotourism center here has three zones
Culture Zone– The major attraction is the musical dancing fountain. You can also try typical Kerala dishes from the restaurants here.
Leisure Zone– The swaying bridge here is the main attraction. But be aware of some unexpected companions here- the monkeys! There is also a Sculpture garden, which has the theme- Man & nature.
Adventure Zone– This is the place for adrenaline junkies. There are options for trekking, elevated walkways, rock climbing and river crossing.
Other Nearby Kerala Attractions
Shendurnery Wildlife sanctuary– This protected are of the Western Ghats is a tropical semi-evergreen heaven which is home to some highly endangered species.
Palaruvi Waterfalls– Literally means a stream of milk, is the 32nd highest fall in India. The journey to reach this location offers you a wonderful trekking experience.
Asia's First Butterfly safari park– Some of our sweet dreams are filled, with beautiful butterflies, flying all around midst of nature's magnificence, well you can witness that here. It is Asia's first Butterfly safari park where you can learn a lot about the life cycle of these species.
Deer Rehabilitation Centre– It is home to spotted deer, sambar deer, and is built within Kallada riverside forest. There is a tree house and a children's park nearby.
Kannara Bridge – It was the first railway line in Travancore state and is more than a century old, which was built during British reign.
Thangasseri- A Trip Back in Time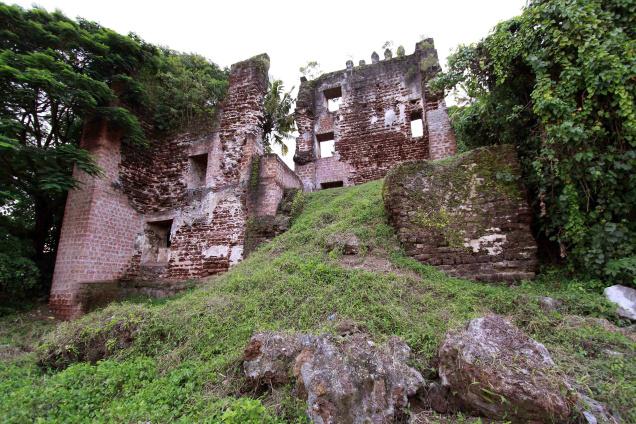 Location: 7 Km from Kollam
Nearest Airport: Trivandrum(70 km)
Nearest Rail Station: Kollam(4 km)
By Road: Kollam bus station.
It is one of the proud heritage lands in the state that offers splendid cultural and historical attractions. Located 5 km away from Kollam, this beach used to be busy center during 18th century.  You can see old marks of Portuguese and all in the architecture of the churches and forts here which makes the land an interesting spot for the archeologists.
Major attractions
Thangasseri Arch – The entrance to the sleepy village, built by British in 1939.
The Lighthouse- Built in 1902 and is of 144 feets height.
San Thomas Fort- Built by Portuguese in early 1500
Infant Jesus Church- Built way back in 1614 by Dutch
Bishop House
Munroe Island- For Tranquil Backwater Cruises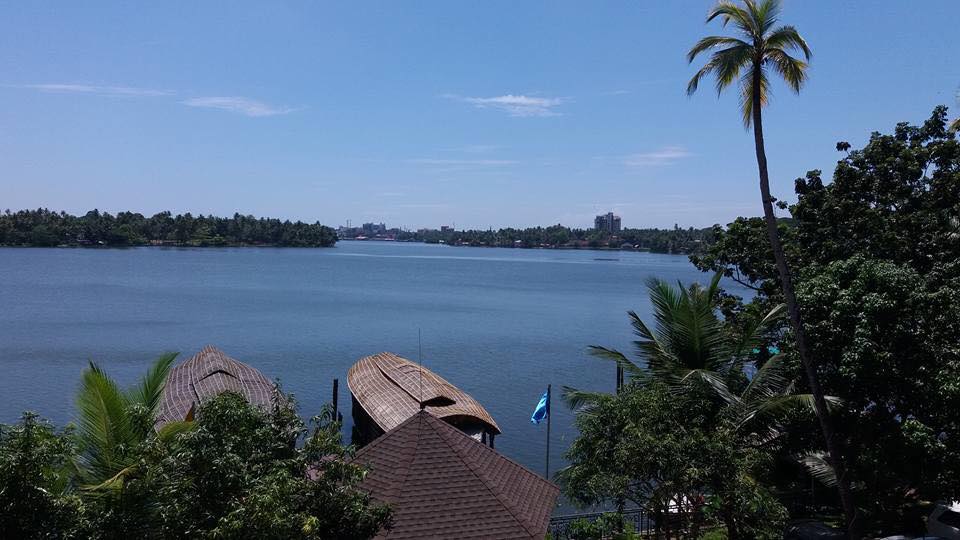 Where- 27 km from Kollam
Nearest Rail Station- Munore or Mundrothuruthu(3 km), Kollam(27 km)
Nearest Airport- Trivandrum(84 km)
Located around 27 km from Kollam, it is the hidden gem of Kerala backwater tourism.  The island is named after Munore, a British resident in back then.  This clean, unexplored, is an ideal spot for experience a complete laid-back backwater cruise. You can witness the simple and typical village life in the shore, the place has its pristine beauty and the people here are mostly working in coir industry and fishing. There is a ferry service to this island which is mostly crowded.  A backwater cruise here would take you through the sights of mangroves, Chinese fishing nets etc.
Kumbhavurutty Waterfalls
Located near Tamil Nadu border, it is a wonderful place to visit during Monsoon. The trek trail to reach the falls is a thrilling experience that offers wonderful, view of the scenery.So, there are lots to see at this amazing place, especially during Monsoon, when its charm adds an ethereal beauty to this place.