They are neither the Cannon beach of Oregon, the US nor the Pfeiffer Beach of California. But a small beach in the outskirts of Kannur, in Dharmadam. Around 100 meters across them, is situated an adorable islet known as Dharmadam Island or Dharmadam Thuruth regionally or at times Pachathuruth. If you had enough of the lovely days spent in either the Wayanad Hills or Alappuzha backwater situated to the south of Kerala, sojourn and explore the beautiful beaches located to its northern parts. You may pull over your vehicle while traversing via National Highway 66 at Dharmadam and proceed toward the beach.
Because of the peaceful waves in the flat-surfaced shore, the serene environment of Dharmadam could tempt any romantic newlyweds to detour and head to them and spend their beautiful moments together at its splendid shores and would also make them curious about the wonder island beyond the shallow sea waters. Here, you will be witnessing a spectacular sight of the golden beach with a few occasional reddish-brown rocks erected on them. All of these are lashed over by very small waves, and most astonishingly thing of this entire beach is an islet just a few distances away, called Pachathuruth among the locals. If you are lucky enough to arrive at the shores during low tide, you could walk across the remaining shallow sea waters up to the island, situated 100 meters away from the beach. We would bet you that would be one of the best experiences of an entire honeymoon trip, which you will be enduring along with your partner. Otherwise, you may hire a country boat and sail up to them.
On reaching the charming golden shores lined up with numerous coconut palms, you both will be mesmerized by it arresting rustic beauty. They would seem to be untouched by the human presence by its very first sight, especially by its crystal clear waters that are rarely seen in the beaches of Kerala. But, you are wrong to be prejudging so, as it has been dwelled until 1998 by a sole family. Later, the bountiful land was taken over by the Tourism department of the Kerala government. Nevertheless, when you precede to interiors across the forestry paths, you could get to see a few dilapidated structures of the ancient house where they inhabited for so many years. Moreover, by venturing out to this Dharmadam Island spread over a 6 acres o land, you are also getting a boon to hike across those densely forested regions, and that too with your life partner.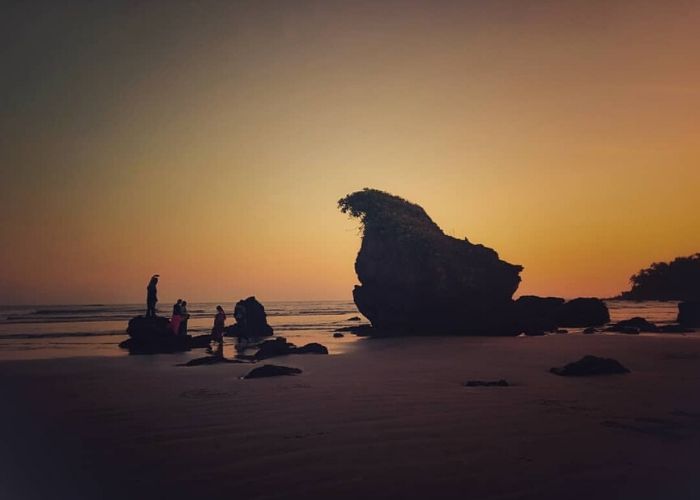 On hiking further, you would notice an abandoned well that might have been used by the family resided there years ago. However, the surprising part of the ancient bore that lies here. Even though they are in proximity to the sea that obviously holds its salty waters, the water fetched from the well is stunningly clear and pure. Now forget the well, as you are going to be more bewildered by a unique sort of medicinal plants that can be spotted here. To behold at the wonders, you both may get the help of any locals residing nearby and get them chopped. Within no time, some liquid with medicinal properties would be seen oozing out from them. Well, the interesting thing is that sometimes the plant would produce up to 2 glasses of water even during peak summers!!
If you have got interested in this new pursuit, you may resume your hiking in the uninhabited Dharmadam Island. Your effort would be worthy of it, as you will be spotting to find yet another unique tree called Nanjju. Some of the local fisher folks would use their seeds to make the fishes unconscious for a while. So they could now catch them easily. Meanwhile, just like every nuance of this universe the diverse trees growing in the islet too has got its boons and banes. The green covers also pose some poisonous trees. So, due care must be taken while strolling amid those bushy shrubs and tall trees. So, men, do protect your lady when pursuing them, as it is based on this very first trip done together that will be she will be realizing that how much you do concern for her.
When returning to the beaches on the mainland, you will feel more enlightened towards the dusk. Just like any seashores of Kerala, the beach adjacent to Dharmadam Island would attain its bewitching beauty during the twilight. While witnessing the crimson red sun crossing the horizon, a romantic mood will be created in both of you. The large rocks and the peacefully lashing small waves discern a picturesque sight, other than a mesmerizing sunset. Even after that, you may relax over the sands by talking endlessly and counting those beautiful waves. Therefore, in every aspect, Dharamadam Island deserves to be included in your budget honeymoon packages, without any second thoughts.
How to Reach There
The destination is situated on the Dharmadam-Thalassery route(NH 66), so once arriving at Dharmadam them you may take the beach road for around 850m. Although the nearest railway station is barely 1 km away, the most accessible Kannur Railway station is at a distance of 18 km from the beach. Also, from Kannur International Airport, it would take 45 minutes to arrive at the beach, covering around 27 km.
Nearby Tourist Attractions
Muzhappilangad drive-in beach: 4.8 km
Thalassery Fort: 6.2 km
Thalassery Sea Bridge viewpoint: 6.8 km
Thottada beach: 14.6km
Mahe river walkway: 15 km
Just like the unexplored beaches of North Kerala such as the Dharmadam beach, there are numerous hilly tourist destinations toward the north-eastern parts of Kannur that are ideal for your romantic getaways with your significant other. Feel the cool misty fogs hitting on your faces while honeymooning high up these rarely visited verdant hills. For which, you may travel with Dream Holidays to make your honeymoon days eventful and memorable to remember throughout your lives. They arrange exciting trips to any popular or unexplored travel destinations of Kerala on your honeymoon days, which is absolute of your choices and indulge in thrilling activities if you wish so. Book your tour packages today and avail all those limited offers. Also, Happy honeymooning!!