Ilaveezha Poonchira trekking is my favorite and most challenging one, because this is the most awaited trek in my life. The greenish beauty of Ilaveezha Poonchira is a main reason of my numerous sleepless nights. I actually don't know what its reason is, may be its enchanting beauty or its allure climate or something else. In addition the trip was awesome and charm. This is one of the main spot of people coming in Kerala Tour packages for family.I together with my friends have started our journey to Ilaveezha Poonchira from Kottayam; the stunning location is situated just 55 kilometers away from Kottayam.  After joined to the Moolamattom road at Muttom and takes place a small journey through it. Then we reach a small town called Kudayathoor, there exist a sign board, directed right which tell us that you can reach Ilaveezha Poonchira after a 7 kilometer journey through the forest.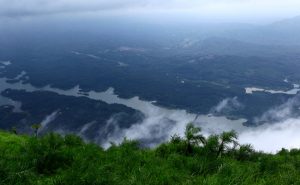 Ilaveezha Poonchira is one of the lesser known tourist destination in Kerala, and it always perform a resemblance of North east states of India. The geographical and atmospherically structures of Ilaveezha Poonchira is exactly similar as that of Nagaland. The place is perfect for a stunning trekking through Kerala Tour packages. The Name Ilaveezha Poonchira possesses the meaning of "a flower pond where leaves do not fall". And the place doesn't contain any single tree in its vicinity so there is no scope to fall the leaves there and that's why the place got this name. Also the place is quite windy and leaves are flying through it. You may wish to have some fun and other adventures in to this place with friends as well as family.
Ilaveezha Poonchira spread across thousands of acres and surrounded with three allure hills include Mankunnu, Kodayathoormala and Thonippara. I think you already aware of Ilaveezha Poonchira's mythical connection; it was closely related to great Indian classic Mahabharata. During the pre historic era, Pandavas live their life with incognito and their beautiful wife Draupadi come to take a bath at a lake, and that one is Ilaveezha Poonchira. Some Devas bewitched by her beauty and trying to fulfill their voyeuristic itch. During the time the king of Deva, come to know about what was going on and artificially create a screen or hill of flowers which prevent Draupadi from such a practice. So the lake form itself a dam and which is free from leaves. There exist another sweet myth related to saint Agastya and all these stories are interesting to heard and know.
During my journey, I really enjoy the wild beauty of Ilaveezha Poonchira lot. The crowd and hot city life is really waste compared with this cool and chilled climate of Ilaveezha Poonchira. The mesmerizing wind caresses the long green grass, and the smile of the grass spread everywhere. To reach the top of the hill only through four wheel vehicle and it may some dangerous. Better to start your journey from morning and trying to finish it before sunset, because the place is home for highly dangerous and poisons insects. I don't get much more words to explain my entire trekking, because it is really thrilling and more challenging to me. My heavy back bag is irritated me so many times, and I manage to carry it till the last of my journey. So you should keep all the essential things like medicines, dry foods, dry cloths and water up to a limited amount, otherwise you will suffer a lot.
Throughout my trip, my walking stick helps me so much, because it is an essential thing in the entire trip. Huge and slant valley are highly dangerous and without a stick it's hard to walk. At last we reach the top of the hill, in that single moment I forgot all such pain and effort which we bear, and I feel that I am staying at the top of the world. My eyes can't recognize any colors, because everywhere filled with white. Sometime later I realize the wild and luscious color of Ilaveezha Poonchira, and mesmerize the beauty of it. So guys, this is the time and this is the location for a better and challenging Kerala Travel Packages. Make use of it and explore the stunning beauty of Ilaveezha Poonchira.
You can reach Ilaveezha Poonchira by air then CIAL is the nearest air port, also consult train then both Ernakulum and Kottayam are acceptable. By road is also feasible for travelers and the nearest cities include Kattappana, Pala, Thodupuzha, Kottayam and many others. During November to March is the best time to visit Ilaveezha Poonchira, the winter dews are cover the hills of Ilaveezha Poonchira is amazing to watch and also offers pleasant climate. Some sort of peoples is visiting this ideal destination during monsoon also; it's incredible and challenging also. Some other stunning destinations near to Ilaveezha Poonchira include Malankara dam, Vagamon, Nadukani, Thumpachi calveri samuchayam and Idukky Hydro electric projects. Also you can enjoy different activities like bird watching, eating out, and hill climbing and sightseeing also.