The days were getting monotonous and I and my friends wanted to get out of the usual routine and start everything anew. So, all of us gathered together at my place as we had planned in our Whatsapp group. We were all working in Chennai and only I have travelled across India for long trips. So, the plan was to visit an alluring destination which is cheap and have got many attractive places to visit. For convenience, we agreed on visiting Kerala which was near and there were travel packages that were the cheapest. We wanted this tour to be perfectly planned and found Dream Holidays to do this for us. I did extensive research on all the best destinations in Kerala and I am listing out the places that I found attractive and worth visiting. This may help you in visiting this state on the southern side of Kerala. Take a look to find out the fascinations where you can visit with the savings you have. The list contains places we have visited and will visit for our next trip. It will take weeks or even a month to have some quality time at this place with immense things to explore and be a part of. From Chennai, we took only 80 minutes to reach the Cochin International Airport. A note to the newly-weds- all of these places are perfect for a honeymoon trip too.
Munnar, if you want greenery and high hills:
Go straight to Idukki district in Kerala if you want adventures and peace at the same place. This hill station has got what every traveller would need. The plantations are the trump cards here – be it tea, coffee or spices like cardamom, the place has got plenty. Munnar is also the best location to get an ayurvedic rejuvenation therapy. With the moderate climate that Kerala enjoys and Munnar with its forests at places like Kannan Devan Hills, there are many resorts and spas set here at this place popular for tea estates. We enjoyed at the Top Station by setting a campfire in the evening and this place shares borders with Tamil Nadu too providing with a brilliant view of the Western Ghats. Always get sweaters, warm clothes and trekking shoes if you want to set out for an adventurous experience. Also, get a guide or a trainer who can help you with trekking and paragliding at Chithirapuram. Trust me, this experience will be worth every penny you are investing for this trip. From Kochi where the nearest airport to Munnar is located, it would take about 1.30 hours and from the airport, it takes only about an hour to reach.  The Tea Museum at Nallathani Estate has got every information about the inception of tea making at this place (Get some fresh tea powder to your home). To enter here we paid a price of 75 Rs and a price of 20 Rs for clicking some pictures. To talk about the food here, try the vegetable dishes and my personal favourite were idli with sambar. Get a cab or taxi for your convenience in visiting the routes that are quite challenging. We had rented bikes for which we paid around 300 Rs for a day.
Alleppey, for the marine lover in you:
After the sightseeing at Munnar, we left at night to Alleppey and took us 1.30 hours to reach and we dozed off at once we reached our resort (I will talk about my Kochi tour later). With its beaches and backwater destinations, Alleppey is known as the "Venice of the East". The houseboat cruise that started around noon when the climate was warm is the best in Kerala. There are places like Kumarakom and Kasargod as our travel operator said. On our next tour, we want to explore those places too. When we reached the Kuttanad area, our houseboat took a halt to take us to this area where farming was done below sea level. We could not visit the coir factory and museum where most of the women in the village worked. The rate of the houseboat with 5-star amenities starts from the price of 7, 500 Rs. We went to Alleppey Beach and spent about 2 hours there. Get some sunscreen safety while visiting. The taste of the lip-smacking seafood varieties and toddy is making my mouth water right now. Vembanad Lake and Pathiramanal are other places that intrigued us.
Kochi, the land of arts and colours:
Kochi, we reached here on the first day of our trip and I was saving the best one for the last account. I will start with the varieties of cafes and restaurants here. The Kashi Art Cafe, Farmers Cafe, Casa Linda, Hotel Seagull and Brunton Boatyard are my favourites from where we had the best European and seafood dishes. Kochi with its moniker as "Queen of the Arabian Sea" is providing ferry services to places like Fort Kochi, Vypin and so on at a price that was not more than 10 Rs. This is one place in Kerala where many art exhibitions like Kochi-Muziris Biennale happens. The heritage building known as the Aspinwall House is open during this time which is a famous location that has appeared in many movies. To stroll near the water attractions, there is Marine Drive which is also the place from where we did an extensive and heavy shopping for hours. There are other malls like Lulu Mall which gets placed in almost all tour packages to Kerala. Fort Kochi Beach is a perfect place for families to get together and enjoy. Mattancherry Palace and Hill Palace are other places that have got a lot to see by paying smaller amounts depending on age. All of these places can be visited by availing packages at with offers and affordable price.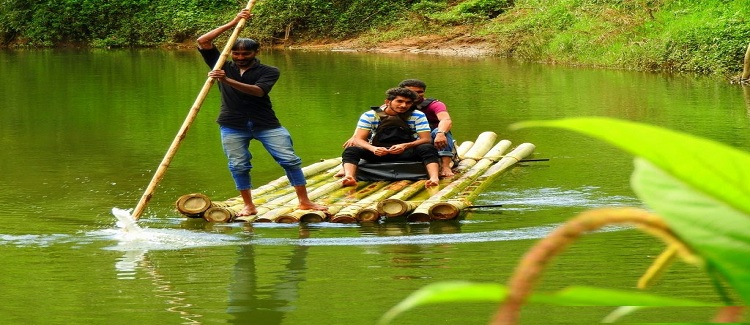 There are other places like Wayanad which is a hub of wildlife with its ravishing greenery. Places like Thekkady with wildlife reserves in its national parks. Bamboo rafting is another experience that I am not going to miss for the next Kerala tour.