The day was nearing to an end and I was thoroughly exhausted. Heading home, all I needed was a precious nap before I started on the much awaited Delhi tour packages I have been planning for so long. This time my idea was to go on a Delhi tour with a shopper's eye. My only focus was the shopping malls and centers of Delhi. Much celebrated shopping destinations were charted out by my tour manager. As most of the shopping sites were closed on Sundays, I opted for a weekday's tour. The journey started on a Wednesday crisp and clear in the month of October. The weather was chilly even though winter was nowhere around. I had my best buddy's address with me so that I would not have to look for any lodging facilities and even though I had to bug her, she finally gave in. Cooking was up to me, of course. (lol!!)
I started out the evening of my arrival which was on Wednesday and headed straight for Old Delhi market place. Shopping is serious stuff in Delhi. We wonder at the mighty rush of people all round the shopping places. When you go for a Delhi tour packages from Kerala you can know the difference of shopping in Delhi and in Mumbai. My first stop was at the Chandni Chowk which is famous for its souvenirs and curios. Dariba Kalan known for its silver, pearl, gold jewellery and attar and Gulab singh Johri Mal are the best attar marketers. Attar is a kind of natural perfume used directly on the skin. Khari Baoli known for its spices is a spice lovers' paradise. Moving onto the cloth bazaar one gets everything and anything in fabric from the Katra Neel. Then there is the Moti bazaar famous for its pearls and shawls just as the name suggests.
Done with the shopping at Chandni Chowk, I moved onto Nai Sarak and Chor Bazaar. Here is where you can stop by when you are on a Delhi tour packages from Chennai or anywhere else if you are a bookworm. The Nai Sarak has retail and wholesale stores of school books and other books on both sides. The Chor bazaar offers anything and everything at low prices but the lifetime of the goods cannot be guaranteed. Then there is Chatta Chowk Bazaar that sells artificial and semi precious jewellery, embroidered handbags, wall hangings and other artefacts with dubious authenticity. So buy at your own risk. The Daryaganj book market sells every book. You name it, they have it. This is the major bookselling market in Delhi. Totally drained out, I headed my lodging for a late night Maggi dinner. That was the successful shopping day at Old Delhi. I wrote down a quick account book for my days shopping and checked my wallet to see the remaining bucks if I did have some. I settled down with a John Grisham thriller to slip off into the night of dreams.
Mornings are clear and sunny as I woke up to the call of the cuckoo. I settled with a cup of coffee and got a quick shower and headed off for the next day's shopping spree. Luckily half of my savings was with me as I had done a good bargaining this time at Old Delhi. So that means I get the luxury of a few more bucks for the second day. Anyone on a Delhi tour package from Bangalore or any other shopping city of India will surely doubt what is so special about shopping in Delhi. Besides touring the monuments of Delhi, shopping needs selective quality time kept aside. So next I went for the high definition market place called Connaught place locally known as CP. Now for that little bit about the history of this place. This horse shoe shaped market place with its sprawling vastness was the biggest of its kind in India. The shape was thought to be lucky for shoppers and the sellers alike. That's a little bit of the superstition of the beginning of the market even though the place has been very lucky as of now. You can catch hold of all the modern day brands like Adidas, Allen Solly, Bentley, Bon Ton, and the like. The market has two circles of shops, the inner circle and the outer circle. Besides branded stuff, you get the handpicked diamonds and hand crafted jewellery and tailored suits and sherwanis. A must visit for the brides and grooms to be. Catching hold of a few pieces of jewellery and suits from the branded stores I headed for lunch at the street walk cafes nearby.
After a quick bite I headed for the Janpath. No, not the famous 10 Janpath, it is a street marked with cloth makers of all kind. It also has curios of all kind. Again a place that puts your bargaining skills to test, this place is known for its fake products too. So you need to have an eye for the original ones, if you need to get the right stuff as you tour with New Delhi holiday packages and get to know Delhi better. All the refugees from the partition and the invasion of Tibet by China settled here and are now a part of the market area. The Tibetan market close by has all curios and Tibetan artefacts sold here. You can also find some artificial jewellery and silver jewellery along with thangkhas and brassware. I collected a few brasswares for my new home and some silk fabric to get it stitched later on.  Time flies away and I headed home after the second and final day of my shopping.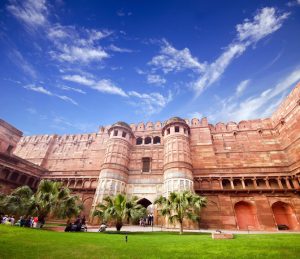 Thank God I had my return tickets with me or else I would have been stranded in this place, as I had nearly emptied my pockets doing the shopping. I watched the sunset from the balcony of my temporary home and the night I spent with my buddy watching a film she had in her laptop. I lazed around the streets as the night was falling rather sheepishly and reluctantly. Feeling the air of Delhi in my lungs I choked with tears as I bid goodbye to two days of pure bliss. My Delhi holiday packages was extremely stale and I raved to get back home and show off my goods to my colleagues and friends back home. For the last time I bid farewell to my best buddy and the Delhi city as I hopped on my flight back home.