Everyone wants to enjoy travel with much ease and dislike if it has been disrupted by any health issues. We know, some of the health issues really make us depressed for not being able to enjoy any travel and also giving discomfort to others accompanying us. The silent killer of diseases, Diabetes is a major concern for every patient and those who are diabetic follow a strict way of lifestyle and medication but that doesn't mean they can't travel anywhere. Although some issues keep tracking them everywhere they go, some preparations and precautions made can hinder the menace while traveling. November 14, 2017, is the world's diabetes day and experts have given the guidelines for travel to diabetic patients. In India, After Mumbai, Surat has ranked second for having more number of diabetic patients and the doctors claim that diagnosed patients are more in number and there is still more number of people who are not diagnosed yet. The Abnormal blood sugar levels in patients of Surat are very high compared to those in Mumbai. Studies report that it is due to the incorrect lifestyle and genetics of Gujarat. But this cant deters them from taking part in a tour. Surat natives love to travel Kerala and also there is a belief that while traveling one will be free from the tensions and that can lower the blood flow and thus reduce the effects of high sugar levels. For we know that stress and tension are the main villains for a diabetic patient. Several tour packages to Kerala are available from Surat and make them revel in the natural beauty. But, one has to travel on a flight or train to reach Kerala. Follow some travel hacks for diabetics to make the travel really comfortable.
Some exhilarating travel can promote wellness to some people. Other than lifestyle and genetics, there are people who due to life burdens, tension and stress develop high sugar levels. For them, even a minute issue can make them go depressed and angry too. Travel is a great medicine as it promises wellness of mind and in turn, reduces blood sugar levels. But then too, some efforts must be taken to care while planning for a tour. Surat natives can bring their parents or relatives having diabetics without any concerns and gift them a wonderful vacation in Kerala. The coming months are the peak season for travel in Kerala and never ignore your parents with diabetics. Family tours are most welcomed. It is not just applicable to family tours but any travels like business purpose, weddings can also be met. Extra care must be taken while you travel for a business purpose. As it is the time you can get stressed and blood pressure to shoot up. These simple tips must be taken into account prior to your travel. Consider it as the gift of doctors to diabetic patients on world diabetes day on 14 November 2017.
For Normal long travels 
Must consult your routine doctor prior to your travel and seek advice on dos and don'ts. Also, if possible, check the current blood sugar level and control your lifestyle.
While you travel, always carry twice the amount of medications for sugar which you used to take daily and also carry the supplies double the normal numbers. One benefit is that you can give half of the numbers to your companion in travel so that even if you have lost yours, medications will be regular.
Get the prescriptions for buying insulin, keto-diastin and oral hypoglycemic agents.
Try to carry the record or lists of all your current medications so that in case you need a medicine and not able to recall its name, then the list can be used to find it and will be helpful for others too.
In your handbag carry a small first aid box which contains medicins to be used in an emergency other than those will be taken periodically. Such medicines can be simple painkillers like crocin, paracetamol. Anti-diarrhoea capsules and antiseptic solution. Keep some carbohydrates food like dried fruits, dry biscuits, jelly beans. There are chances for some delays in travel and at that point, you can use it.
Patients taking Insulins, Travel checklists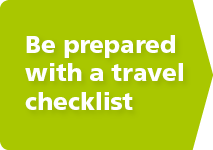 It is reported that the diabetic diagnosed patients in Surat are prescribed with insulin injections after several follow up consultations. There are chances for climatic variations and it is necessary to adhere to the weather in the destination. As in warmer places, the insulin's may be absorbed and hypoglycemic attack can take place. Regular monitoring of blood level is needed to understand the strength of insulin to be injected. Kerala is having a tropical climate and coming seasons are cooler so chances of this can be overruled. The type and strength of medication can change in countries if you get U-40 in India other countries give U-100 only. Also, for these different strengths, the syringe used must also suit the same strength. Insulin syringes must be kept at a cooler temperature and must not be exposed to sunlight. Never keep it on Dickey or dashboards, Instead carry a storage container to protect it from overheating. If traveling with your family, then ask any member to take care of it and remind you at the time of periodic dosage.
Guidelines to follow if you are traveling on a flight
If you are advised to take insulin, then don't keep it in a suitcase as the low temperature can cause the insulin to freeze.
You are traveling somewhere far and unexpectedly you encounter a severe effect of diabetes, the proper medical whereabouts about your health must be provided at the concerned hospital like what medicine you are taking and are you allergic and all. A letter of description from  your regular doctor can help
Another letter stating you have diabetes and thus it is necessary to carry syringes and needles must be given at the airport.
For overseas trips, it is advised to adjust your watch with Indian time so that you could know which time you have taken your last dosage. eat according to the time you used to be before and not according to the country time.
Be prepared for the time zone change issues, chances of flight delays.
The vibrant beaches of Kerala are really tempting but extra care must be given at that location and avoid walking barefoot especially on hot sand beach water. Avoid injuries while walking or swimming. In case you have found a blister, tie it as soon as possible. Patients having diabetes, must adhere to food habits and you are lucky if you are coming with your family and on a family tour, your relatives can take good care of you. Don't worry that it is impossible to travel with a patient having high sugar. Some of them used to cancel many holidays owing to this reason. Never deter from this and as Surat is the place where many adults suffer from diabetes, travel agents in Kerala have crafted special Kerala tour packages for family. Special care will be given to those families. You can choose the dishes accordingly and necessary adjustments will be made for you. Regarding the food habits, carry carbohydrate-rich food or sandwiches. From Surat, flights are available to reach Kerala and train is not a good idea. In flights, order an 'ordinary meal' instead of asking for a 'diabetic meal' as airline meal contain low carbohydrate. Another challenge that must be faced is the flight delays and to counter that keep biscuits/jelly beans in your handbag itself.