Honeymoon and "I love you to the moon and back" rhymes at certain points, right? Well, that's what honeymoons are about – show that you love them like crazy and the bond will never weaken. Just like the vows you took to take care of each other at all times during your wedding, make your times together beautiful too. That is what you want too, Kerala knows that and has set itself as a warm and welcoming sight for the lovers like you! Hold your hands and come to Kerala's lands for your honeymoon. To ease the burden of planning and booking everything you will need, take the packages that will benefit you as you can concentrate on each other without worrying about how your accommodation and destinations will be. Here comes the need of a travel operator to take that weight off your back. As your trip is to explore the places in Kerala, Gogeo Holidays is the perfect travel planner for you as they know Kerala the best.
Worry not if you are not from Kerala, there are flights, trains and good roads to Kerala helping you to fulfill the expectations you had in mind while coming to Kerala. There are many places that you can visit in Kerala that will be made available to you at all royalty by the travel partners. With a planned package in your hand and everything done in advance, you can get ready for that dream trip that will be cherished till eternity. Find out the reasons to choose Kerala as your honeymoon destination.
With a great array of waterfalls in Kerala, you can always visit the one that you feel is the best one for you. There are certain places that are quite famous with honeymooners. The beautiful gushing waterfalls in Kerala is as attractive as the backwater destinations and hill stations that are usually selected for a honeymoon exploration. Take note of the waterfalls that will be closer to the places you are visiting.
Athirapilly Waterfalls
Situated at the Thrissur district of Kerala with Sholayar ranges as its emerging point, this biggest waterfall in Kerala jutting downwards from a height of 80 feet and extends to a width of 330 feet. This spot gives you the view of the Western Ghats and Sholayar Hills. This waterfall which has also appeared in movies is situated above at the Chalakkudy River at a distance of 1000 feet above sea level. Here, the couples can enjoy the waters, explore the forests and also visit the famous places nearby. Hesitate not while adding this place to your honeymoon package as it is known as "the Niagra of India."
Best Time to Visit: Monsoon Season (June to October).
Visit this place: from 8 am to 6 pm.
Ticket cost: 15 Rs.
Approximate Time to Cover the Place: 2 to 3 hours.
Attractions: At times, you can see a rainbow if you are lucky.
The happy elephants enjoying their time as the human settlement has not covered a larger area here.
Adventures: Trekking, Treetop Stays, and Jungle Safari.
Best for: Photography, Nature Lovers, and Bird Watching.
Must-visit Nearby Locations: Vazhachal Waterfalls, Sholayar Penstock Pipe View Point, Chapra Waterfalls, Peringalkuthu Dam, Illithodu, Abhyaranyam Zoo, Sholayar Dam, etc.
Best Way to Reach: 39 Kilometers ride from the Cochin International Airport via Chalakkudy – Anamala Road.
Get down at the railway station in Chalakkudy and get a cab to cover the distance of 38 Kilometers.
Soochipara Waterfalls / Sentinel Rock Waterfalls
This exquisite mountain range of Wayanad district is bestowed upon the Vellarimala mountain range in Kerala. The waterfalls gush downwards from a distance of 200 meters. The place got its name because of the needle-shaped rock present here. The word "soochi" in Malayalam means needle and the rock goes by the word "para." The place is usually closed from entry during the months March to June. If you are taking your honeymoon visit in a cab or car provided as per the package, park it away from about 2 Kilometers away as you will have to walk downwards to reach the waterfalls. Also, make sure that you carry no plastic items as it is not allowed on the premises. If you are traveling to Soochipara Waterfalls from Wayanad by road, it will take only 45 minutes to reach here.
Best Time to Visit: Monsoon Season.
Visit this place from: 8 am to 5 pm.
Ticket cost: Around 50 rs.
Approximate Time to Cover the Place: 2 – 3 hours.
Attractions: The sharp-edged rocks.
Adventures: Swimming, Rock Climbing, and Water Rafting.
Best for: Nature Lovers, and Sunset Photography (during Winter Season).
Must-visit Nearby Locations: Chullika River, and Velarimala Hills.
Best Way to Reach: Reach Wayanad from Calicut International Airport by covering 99 Kilometers whereas from Kannur International Airport there is only 93 Kilometers travel.
Attukad Waterfalls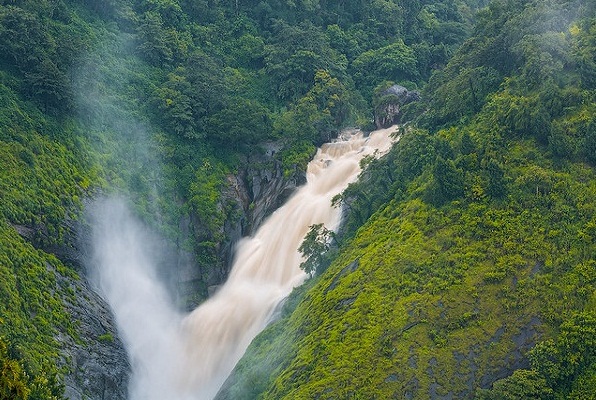 This waterfall is situated at Idukki district between Pllivasal and Munnar. Munnar is known as one of the best locations in Kerala to have a great honeymoon time. When it comes to adding Munnar to your travel packages, Attukad Waterfalls is a place to be chosen without second thoughts and is 9 Kilometers away from Munnar. The water is flowing through greenery from a height of 4160 feet. The place is only accessible by a wooden bridge to have the best moments with your partner at this popular picnic spot. Make sure you wear shoes fit for traveling across mountains and terrains at this hill station spot. Make sure you include a travel guide in your package if you are planning a trekking expedition here.
Best Time to Visit: Monsoon and Winter Season.
Visit this place from: 10 am to 6 pm.
Ticket cost: Free of cost.
Approximate Time to Cover the Place: 1 to 2 hours.
Attractions: Wooden bridge cross, abundant flora and fauna and view of the Western Ghats.
Adventures: Trekking and Swimming.
Best for: Nature Lovers, Adventure and Photography Buffs.
Must-visit Nearby Locations: Pallivasal Waterfall.
Best Way to Reach: From Cochin International Airport you need to travel for 101 Kilometers to reach here.
Aluva is the one if you like to take train journeys.