How about lying on the lap of your significant other on a peaceful morning and just talking about any random topics on the banks of tranquil backwaters? Sounds cool right? Well, such a calming experience can be gained when you are up to this picturesque Munroe Island, which is only at a 27 km of distance from Kollam main city. So the honeymooners visiting Kerala can think of a whole new location of Munroe Island situated at one of the southern districts rather than opting for the stereotypical spots of Allepey, Munnar or Kumarakom in Kerala.
Being situated on the brink of Ashtamudi Lake, which is said to be the cleanest backwaters of Kerala, to every angle you turn to you are going to find picture-perfect frames that would resemble any scenic places. One of the most profound factors of such a charm of the islands would be the reflection of the long line of tall coconut palms slanting toward the serene water bodies. They make that perfect blend for creating that lush greenery and increasing that stunning beauty of the location, besides the dense mangrove plantations. Moreover, at some parts, the islands are sidelined by the tributary of the Kallada River. So on your honeymoon trip, when you are spending your precious time together in the backdrop of such an adorable place it will bring you a special kind of joy that you had never felt before.
The relaxing ambience of this quaint village could be experienced on a greater extent when you both are staying back at any of the adjacent resort or simple homestay. To avail the former option you will always be advised to pre-book under any good tour packages. They may provide you with both that precious opportunity to sail through numerous narrow and small canals flowing in between the islands. On its banks, you could find several mangrove plants growing in unusual shapes. Sailing across in these intricate pathways in kayaks can turn out to be a fun activity that can be indulged by couples together. At some places, the mangroves would be denser that would create a tunnel kind of structure, providing shelter to you.  On that voyage, you could closely observe at the simple rural livelihood led by the villagers there.
The entire concept of tourism has only started emerging to this pristine island of Munroe. So you are going to rush into a very few other tourists on your trip. Moreover, there will not be any long lines to create any boredom in you and hamper your honeymoon. In this very little crowd, both you and your significant other can have your own special moments together. Also, the brightly coloured mangroves provide these areas with an added beauty, as you may catch a glimpse of large migratory birds flying across from them, on which they had made their temporary nests. The calming green-hued water bodies are going to soothe and save you from all the tensions you could have suffered from the everyday busy lives.
On your exploration of the place together, you may interact with the cordial and polite village dwellers. They may educate you about the primary fishing methods that they usually do for their living, by moving around in the lake waters on country boats. Apart from that, they also depend on the cultivation of cashew nuts, areca nut and obviously the coconuts. They could be the most common tree that you could get to spot here in Kerala, making them the state tree. But all these geographical features do create an awesome view once the sun sets in. The islands may be sighted far away from the beaches, but when clicked a picture during any late evening of the pristine water bodies, you are going to get a mesmerizing photo of you and your loved one.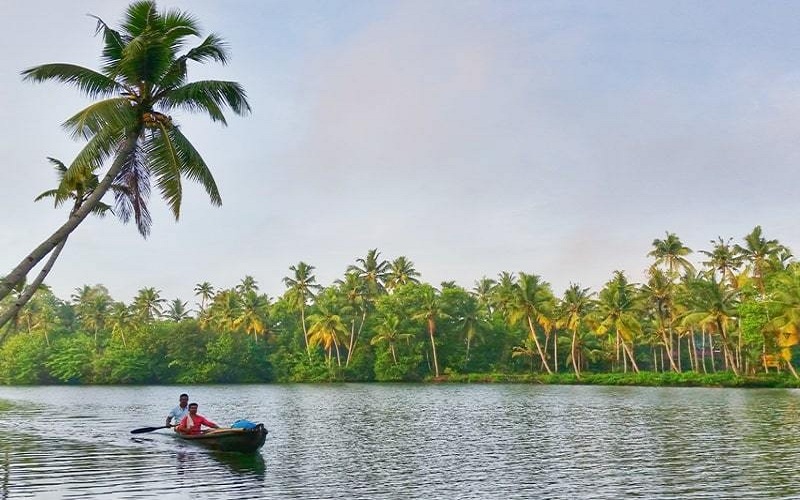 That sail inside a boathouse and cruising all across the backwaters could the next big things that cannot be missed on this very first tour with no other than your beloved. Although they are merely large boats plying in the clean lake waters, you could avail all sorts of world-class facilities, so that you are not facing any troubles by staying in the cruise all day and missing your home. As they are moving to different spots in the cruise, you could get to see the unique views of Munroe Island from the well-equipped houseboats. Above all that, the tickets for this is offered by the Kerala Tourism Department Council at cheapest prices so as to attract more tourists to the destination.
Those Intriguing facts about the Island
Although the name Munroe Island does sound singular, they are actually a group of around 8 small islands or islets. So is the place commonly known as 'Manttrothuruth' in the region, as 'thuruth' in Malayalam means 'a group of Islands.' Furthermore, in the coinage of the name of this place, there had been an influence of a foreigner. It was done after Colonel John Munroe, which was the British Resident of the former princely state of Travancore. In fact, it was under his suggestion that the area of these canals was further expanded. It was to honour him that the island in this part of Kollam district to be called so.
How to reach there: The Munroe Island can be reached from the Trivandrum International after travelling for almost 2 hours 20 minutes covering 81 km to the next district situated in the northern side. Moreover, the nearest railway station of Manttrothuruth is only 4km away. However, you need to transmit for around 26 km to arrive at the more accessible Kollam Junction Railway station.
The island honeymoon destinations as charming as Munroe Island are quite many in the incredible state of Kerala. You need to explore those serene locations along with your partner at least once in a lifetime. So whenever you are heading to these destinations of Kerala, never forget to seek for the assistance of Dream Holidays, who could suggest you about the places and the exciting activities to be indulged in. Although based in Kochi, the reputed tour company had created numerous honeymoon packages targeting adventurous couples like yours.  Moreover, their travel deals would cover the popular tourist destinations like that of Wayanad, Athirapally, Munnar, Allepey, Ponmudi, Kochi, Thekkady and Varkala In addition to that the unexplored places like that of Poovar, Kakkathruth, Kuttikanam and many more would also be considered if the customer is demanding so.