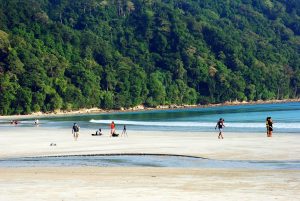 Andaman and Nicobar islands are a great place to visit because of the beauty of nature. For couples, Andaman tour packages from Bangalore are the best option for a romantic honeymoon trip. Being some of the romantic places in this world, these islands are blessed with greenery and blue beaches. Marine life is just amazing here. If you visit these islands with proper planning, you can enjoy and celebrate some cherished moments there. These islands are pretty cheap for the tourists if you compare them with any island destination abroad. Indians do not need a visa to visit these islands as the Andaman and Nicobar Islands are Indian Union Territory. There are around 300 plus islands in the Andaman Archipelago. But only a few islands are opened to the tourists. These places are famous for its white sandy beaches, mangroves and rainforests.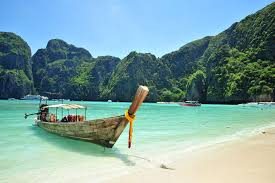 Campbell Bay
This place is located at Great Nicobar Island. You can fly from Port Blair to this Campbell Bay by seaplane, but sea route is more economical. The place is very green and perfect for natural ecotourism. The Campbell Bay National Park is a popular destination for tourists. The lush and tropical evergreen forest orchids and the tree ferns offer a refreshing retreat to the tourists. There are many animals like Crab-eating macaque, Megapode, Giant robber crab, and Nicobar pigeon. This place is very important for wildlife photographers. This great Nicobar Island has tribes called 'shompen' which is one of the oldest tribes in the world.
Neil Island
This island located 40-km south to main Andaman Island. This island is the hottest island in Andaman tour packages from Hyderabad. The tropical forest in the island is rich in biodiversity. This place has sparkling white sandy beaches too. You need to travel in boat from Port Blair to this island to enjoy sea life, water sports like scuba diving and snorkelling. This will be a one of a kind experience in life. Neil Island is also known for ecotourism and it is the vegetable bowl of Andaman. This island is also famous for fishing and angling.
Little Andaman Island
Little Andaman island is a very beautiful island in the Andamans. This island is famous for trekking. You can enjoy elephant safari and boating too here. There are 2 waterfalls called White Surf waterfalls and Whisper Wave waterfalls. This place is ideal for a sunbath. You can enjoy soaking up in the sun alone or with your partner at the serene and beautiful Butler Bay or Harminder Bay.
Cellular Jail
This jail is situated at Port Blair and is a popular destination on Andaman tour packages from Mumbai. This has a very close connection with Indian freedom movement. This jail was built in 1896 by the British. They used to take freedom fighters to this jail for solitary confinement. This jail was built in such way that each prison can only see the backside of other prison and there is a big watch tower from where everything can be monitored. Most of the freedom fighters died there itself because of the atrocities they had to face here. The jail is now a national memorial. It took almost 10 years to build this. Now Cellular jail has become hospital with 100 beds and doctors are taking care local public of Andaman.
Gandhi Park
Gandhi Park is actually a collaboration of nature and artificial formation. It has a collection of historical monuments. It has a very good gardens, restaurant and lake that are well-maintained. Gandhi Park has children's park, amusement park and water sports such as scuba diving and snorkelling. Gandhi Park also has a Deer Park and a Bird Park. You can see a variety of deer like Barking deer, Spotted deer, Hog deer and Sambhar. The Bird Park has a lot of variety of birds like long-tailed and red-breasted Parakeets, grey-fronted and imperial green Pigeons and vernal hanging Parrot and so on. Tourists on Andaman tour packages from Ahmadabad can also visit the Japanese temple and bunker, both made by Japanese during the World War II.
Corbyn's Cove
Corbyn's Cove is a peaceful and unspoiled sandy beach. This beach is 8-km away from the Port Blair city. It creates a beautiful backdrop with green coconut palms and the lovely blue sea. The main attraction in this beach is water sporting such as scuba diving, surfing and boating. This beach is very good for sunbath too. You have so many restaurants, resorts and gust houses nearby this beach. It is very popular among the tourists on Andaman honeymoon packages.
Chatham Saw Mill
Since it is the coastal area, it has a lot of coconut trees and palm trees. The Chatham saw mill showcases the usage of wood at its best. Since the islands are rich in forest wealth, they use wood for commercial purposes and for home construction. The saw mill is situated in Chatham Island which is connected by a bridge to Port Blair. They make handicrafts and furniture from timber that's abundant in the forests. The tribals and the locals make and sell beautiful handicrafts and furniture that they sell to the tourists or merchants from the mainland.
Cinque Islands
Cinque Islands are beautiful, colourful and calm. These Islands have bright and colourful corals and marine life. This Island is divided into south and north Cinque. This Island is connected by a sand bar. You can see the coral gardens and enjoy the privacy there. The island is a popular tourist location but uninhabited, which makes it a popular destination on honeymoon trips. The water is very clear and visibility level is almost 80 feet. No one is allowed to stay there overnight.
Andaman and Nicobar Islands have become one of the most important places in Asia's tourist spot and it is one of the best-maintained tourist destinations in India.  You should never miss a chance to visit these islands and have good time. It is better to plan in advance and hire an authorised guide to make the most of your Andaman and Nicobar Islands' trip. This part of world is very economical and thrilling for all those travel explorers. So take a back pack and move towards these Islands and experience blissful holidays.