The things which make me feel alive and happy are travel and food. Being raised by a typical Malayali family traveling and exploring new places was not always a big yes for me.  But the story changed entirely when I moved to Chennai for my Job. Here I found someone who is a super foodie and travel junky, Jeffrin, my colleague. Every weekend we went on a trip and he is the one who introduced to me the different aspects of traveling. One such fine day he sent me an article about Andaman and Nicobar Islands. The exciting and delightful thing in Andaman, the food, culture, adventures. Without any second thought, we just decided to make a trip to Andaman, the land of white sandy beaches where the sun kisses the crystal clear turquoise lagoons.
On the next day, we pick some random travel agencies from which Andaman Tour travel is the one in which I feel more genuine and having some amazing tour packages. After all the planning and plotting we started our journey. From the Chennai International airport, we took Spicejet to reach Port Blair, which takes approximately 2 hours to reach there. And is the most convenient and cheapest way to reach Andaman from Chennai. On the way to our hotel, I was really surprised by seeing the dashing beauty of this heavenly paradise. After a healthy breakfast which includes an authentic Andaman local cuisine, we started our first day in Andaman. While planning our journey to Andaman we both made our wishlist clearly so on the basis of that our very first wish was to fulfill a deep dive in the enchanting emerald green water to explore the mystery of its beauty.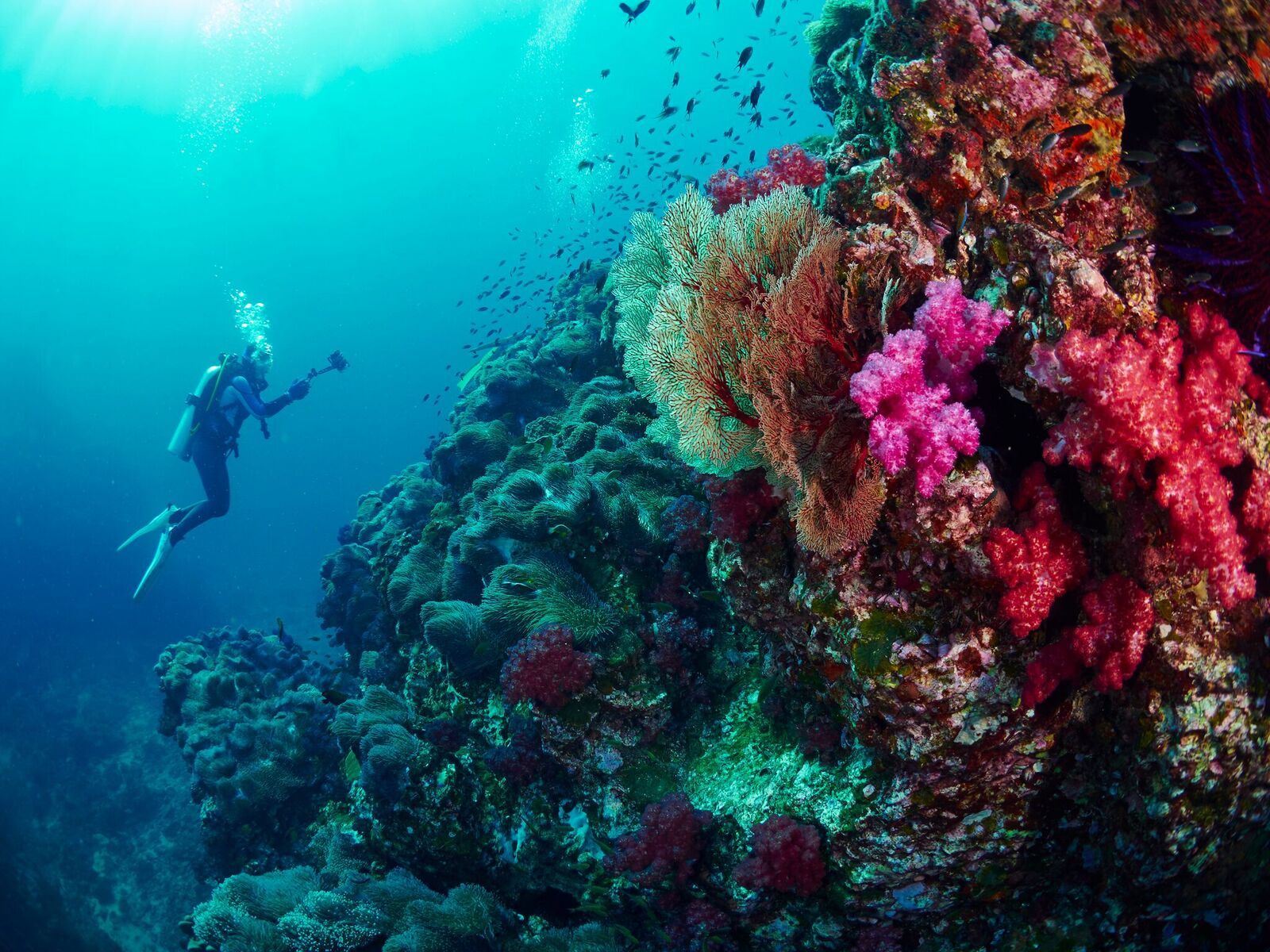 We moved to Barracuda city in Havelock Islands for our first water adventure. He was so excited and keep on asking about the finest details about scuba diving but on the other hand, I was nervous and confused about my choice because I consider myself a hydrophobic. But keeping my fear aside we just dive into the turquoise crystal clear water. For a moment I feel very panic but the guide so friendly and helping. Trust me it was so refreshing, swimming near to a spectacular array of fishes, sea turtles, Batoids, multi-colored corals reefs and so on. It was so rejuvenating and it completely wipes out my fear of water.
Being a shopaholic, the next thing which I was eagerly waiting for was street shopping.  In every nook and crook, you will find a shop or stall with a huge collection of amazing handicrafts. From Aberdeen Bazaar to Delanipur, this Island will offer you a spectacular shopping experience for sure. In which Port Blair is the busiest zone with a vibrant array of shops that sells a wide variety of local handicrafts. From which I brought some shell jewelry and pearls for my niece and for myself. Shell jewelry is one of the most famous local handicrafts among tourists than precious jewelry.  While he was so busing in purchasing fishbone articles and it seems quite funny and weird for me. But then I came to know it is one of the top-selling handicrafts in Andaman and widely used as home decor. It is usually made from either dead or eaten fishes.
After a 3 course heavy lunch we went for sightseeing. The travel agent suggested the rare view of turtles nesting in the Diglipur beach. This amazing process can only be witnessed from December to January where the turtles go on through its gestation period. We are lucky enough to watch this fascinating process and it was the first time that I'm seeing a huge turtle in my life. They are quite huge from the normal turtles and not afraid of the crowd. He was really tried hard to impress and pamper the turtles by feeding them fruits, gently rubbing through its body but the turtles were really don't care about his existence and which was extremely funny to watch. December to January is the best time to explore Andaman where the climate is so pleasing and also so many amazing tour packages are available during this season.
Cellular jail was the next thing on my wishlist which I really wish to see because of the movie "Kalapani", but Jeffrin was still in the mood for adventures. By seeing his extreme craving for adventure we have decided to do Parasailing in the Elephant beach in Havelock Island. Since it is a customized tour package it was really easy and exciting to fulfill our wishes in Andaman.  Parasailing is a recreational kiting activity where you can fly in the air like a bird and the most magnificent part about it was the alluring aerial view of the heavenly Island. It costs about an INR 3500 per person but it totally worth the money. One thing which was common in our wishlist was Barren Island. First I didn't believe about the volcano eruption but the stunning view of the Island was really breathtaking. Barren Island is about 138 km away from Port Blair and it is the only active volcano in India. Barren Island comes under the restricted zone and special permits are necessary for the visit, even though thousands of tourists are coming here to experience this spectacular phenomenon.
After all the adventures and shopping we both are so tired and really needed something refreshing. So we just entered to the first pub near to Govind Nagar beach in Havelock. The pub was so classy, sophisticated and well furnished. While I was enjoying my Martini and he asked me to come to go for a walk to experience a romantic sunset glimpse. Your Andaman journey doesn't complete if you're not enjoying a lovey-dovey sunset with your loved one near to a beachside. After a captivating sunset, we go to our hotel and the next morning I feel so sad and jealous of the blessed souls who are so lucky to spend their whole life in this paradise. We packed our bags with a lot of sweet and beautiful memories and said bye to Andaman.