Honeymoons are to be spent in any exotic locations. So is the beautiful place called Andaman in the South-eastern islets of Bay of Bengal. So once after deciding the location for your very first trip together, you might be pondering over the romantic things that you both can execute. While indulging on it, you will be getting to know the interests and disinterests of the other person very amusingly. After all, it's your good time together from now on. Listed below are the best things to be done for honeymooners who are wishing for a romantic getaway in the exotic isles of Andaman.
Watch Sunset together at Chidiya Tapu Beach
Almost all the beaches of Andaman islets are serene and beautiful. However, that particular beach that could be preferred by honeymooners for watching sunset would be the Chidiya Tapu beach near to Port Blair. The black mountains in this particular beach could make a perfect place for watching the honeymoon by holding their hands together. Here you could witness the sun hiding behinds the distant mountains. Apart from that, you could click pictures from in between their old tree branches and large boulders that are spread all across the tranquil beach. Quite contrastingly from the Indian mainland, in Andaman, these mesmerizing visuals do happen quite early. So you will have to reach at these locations than the stipulated time.
Go for a romantic cruise
Once the sun sets on the island of Andaman, the whole atmosphere alters. It turns more calm and composed that are just perfect your peaceful time together in your honeymoon. Board a luxury cruise when the time is about to shift towards the evening. Then you could witness the varied hues of sun and then utter silence everywhere around you. Apart from that, almost all the reputed tour companies will be hiring private ferries for honeymoon trips. Even otherwise, you may demand such as a memorable activity of sailing along with your partner by including them in the packages.
Witness bioluminescence while kayaking
Starry nights in the seawater! Sounds romantic, huh? This could be that 'once-in-a-lifetime' experience which should never be missed if you are honeymooning in an alluring travel location like that of Andaman. Right in the beaches of popular Havelock Island, you could astonishingly behold at the brightly lit water at night and even play in them with your partner. Or even otherwise, kayaking across the mangrove creeks in Havelock would instantly make you feel ethereal. However, these incredulous phytoplanktons do only glow in the silent nights from November to February. So if you are planning your honeymoon in Andaman, you may schedule them during these months.
Never skip a candlelight dinner at the beachside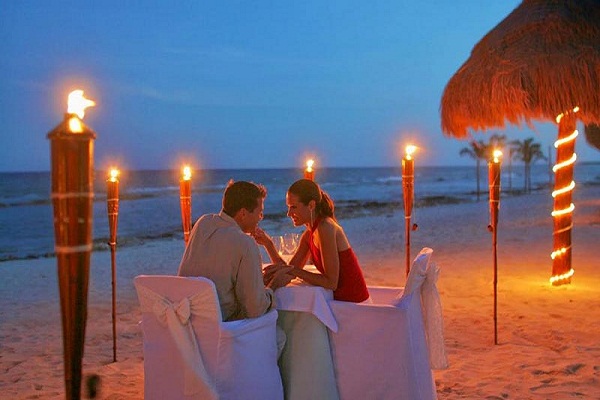 Dining with your life partner underneath the glow of a sheer candle can be really special. So is the dinner at the beachside your beloved new spouse. You may choose any of your desired beaches for this relaxing experience, as you will be simultaneously relishing your favourite cuisine. Also, a romantic mood will be created in both of us instantly in such a romantic ambience, when no one around is there to disturb you.  Moreover, many of the prominent resorts of Andaman are indeed located in the white sandy seashore. Henceforth, you will not be requiring much external stuff in such arrangement.
Adore the beauty of White Surf Waterfalls
Not many people would know that waterfalls do exist here, but there are a couple of enchanting cascading falls in these island groups. Nevertheless, the most pretty and largest among them is the White Surf Waterfall situated in Little Andaman. Although it may take a whole day for reaching up to nature's wonder, the travel will be worth it. Such is the bewitching beauty of these cascading waters alongside the beautiful rocky terrains that are covered in light green moss. At times, they even resemble the Bigar Waterfalls of Romania. Furthermore, the travel to such distant locations in the trip will allow you both to know about each other.
Click you best picture with the backdrop of natural Howrah Bridge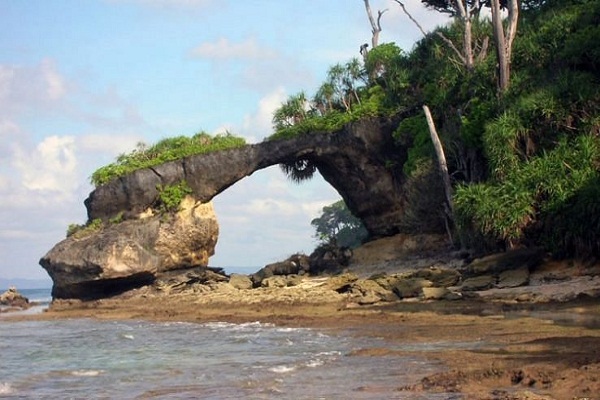 Well, here we are not about the Howrah bridge of Kolkata, but about the natural bridge located in the Neil Island of Andaman. You may click your epic pictures of your tour, where you had the best honeymoon memories. If you are still not satisfied with the results, you may get the services of a professional photographer that can be made available in your honeymoon packages. Furthermore, if you are willing to stay over nearby, you click the best right from the first rays of the morning. Camping in such a secluded space can be yet another ravishing experience of your honeymoon.
Go trekking in Mount Harriet
Such activity will not only bring adrenaline rush to the challenging lots, but also for any couples who are honeymooning in Andaman. As the green covers of Mount Harriet are at most proximity to Port Blair in Madhuban, you both could easily reach and climb up to them for a perfect getaway. The duration for that venture can be balanced with a shorter span of time taken for reaching up to the summit. On the up the trek, you may catch a glimpse of the diverse flora and fauna that are even endemic to Andaman. It is advised to accompany a local could guide you in the path, as it was can be treacherous.
So now the newlyweds have got enough romantic things to be indulged if they had planned to spend their honeymoon in the beautiful islands of Andaman. For the very same purpose, you contact Andaman Tour Travel. The popular tour company based in Port Blair had curated varied interesting honeymoon packages that could satisfy the travel needs of each of the couples. Here, you will not only be offered with clichéd romantic activities, but also diverse nerve-wracking adventure activities for the challenging couples. These honeymooning travel deals can be availed by any couples via both online and otherwise at affordable rates.