Comparing to the Northern part of India, South India is really vibrant and charming and there are many enchanting hideout places that are blessed by the vastness of the Western Ghats. Wayanad is one such places in Kerala, where you can find some of the greenest parts and most vibrant holiday spots, which can be easily clubbed with Stunning Kerala tour packages with price, that are offered by many recognized tour operators like Seasonz India Holidays, to provide the travel enthusiasts a completely hassle free travel.  There are many hidden gems of green paradises near Wayanad that you may even have not heard of yet.  Madikeri, Nilgiris, Kannur, Bandipur, Kozhikode are some of those places that encompass the spectacular views of nature and can be a real paradise for nature enthusiasts. All these destinations are easily reachable from Wayanad within a 150 km range, which will take the only maximum up to 4 hours to cover. Here are some of the best picks. These would be the perfect spots for an unplanned trip, which are tucked in the Western Ghats.
Thusharagiri Waterfalls- Calicut
How to reach
By road- 49 km from Wayanad
Duration of trip- 1.5 hr

This mystic waterfall in Kozhikode where you can listen to the whistling of the woods holds some of the most scenic environs in the Western Ghats. The Chalippuzha river is what separate into this gushing currents and as the name indicates, the nearby Thusahragiri mist covered mountains, is another fascinating spot to witness.
The trek up to reach here can be exciting for you. As you enter the forest region you would see the Mazhavil Chatham falls, Erattumukku falls and the Thanni Muthassi, lie within a 500 m range. All these surrounding places are rich in bio-diversity where you can witness exotic flora and fauna. These are one among the lesser known falls near Wayanad, which can easily combine with the itinerary with Kerala tour packages.
You can trek up into the woods to reach the falls, and the nearest town is Kidenchery which is located at a distance of 11 km.
Nearby attractions- Kozhikode Backwaters, Lokanarkavu Temple, Kappad beach, Kadalundi bird sanctuary, Beypore beach, Thamarassery churam.
Brahmagiri Wildlife Sanctuary- Kodagu
Distance- 50 km from Wayanad
Duration of trip-1.5 hr
This would be your perfect one-day trip spot near Wayanad.  During your Kerala trip, plan a one-day picnic to the scenic Brahmagiri wildlife sanctuary in Kodagu, which is yet another lesser known exotic place to visit near Wayanad.  This would be an idyllic spot to explore with friends or for a picnic day with your family. The sanctuary offers rich biodiversity and many verdant peaks that offer amazing views. The place is located at a height of 1607 m above the sea level and the park is one of the highest points in the sanctuary.  The place is also perfect for trekking.
Brahmagiri is more like a border between Karnataka and Kerala and the trek to reach here can start from Thirunelli, but you need permission from the forest officer before beginning the trek.
Best time to visit- Between December and February
Nearby attractions- Iruppu falls, Thirunelli temple, Pakshipathalam
Vavul Mala and Vellarimala- Kozhikode
Distance- 61 km from Wayanad
Duration- 2 hr
To sweep into the wilderness add these place with your Kerala tour packages from Bangalore and other cities. This place is also known as one of the toughest treks in the entire South India and yet another hidden spot near Wayanad.  You would feel the sounds and smell of nature and the crisp mountain air piercing your senses as you trek along the mountains.
You can start the trek from the Muthappanpuzha village nearby which is situated at a distance of 4 km away from Kozhikode. This place can be easily reached via Thamarassery churam.  The route will also let you savor amazing views of deep forests and landscapes. This would be an ideal pick for camping with a group and an adventure trek.
Nearby attractions- Damodaran Kolli, Olichuchattam Falls
Aralam wildlife sanctuary- Kannur
Distance- 63 km from Wayanad
Duration- 2 hrs
This scenic place located in Kannur is best to witness the unspoiled scenic beauty and lush green grasslands.  This Western slope of Ghats spreads across and area of 55 square kilometers and yet another best hideout spot to visit near Wayanad and can be a perfect pick for your ultimate bucket list. The sanctuary is home to some exquisite flora and fauna and also some semi-evergreen forests. You can spot, sambar, gaur, elephants, barking deer, spotted deer, Malabar giant squirrel and so many distinctive species in these premises. The sanctuary's highest peak is the Katti Betta which is situated at a height of 1145 m.
The nearest town from here is Iritty which is located at a distance of 5 km and can easily access by private vehicles or bus.
Entry Timings- Between 8 am and 8 pm
Entry fee- INR 15 per adult
Extra payments- For vehicle INR 75, for camera INR 25. For guide INR 300
Bandipur national park
Distance – 83 km from Wayanad
Duration of trip- 2 hrs
To spend a day amidst of the best of Nilgiris, head out to Bandipur.
Ideal time to visit- Between October and May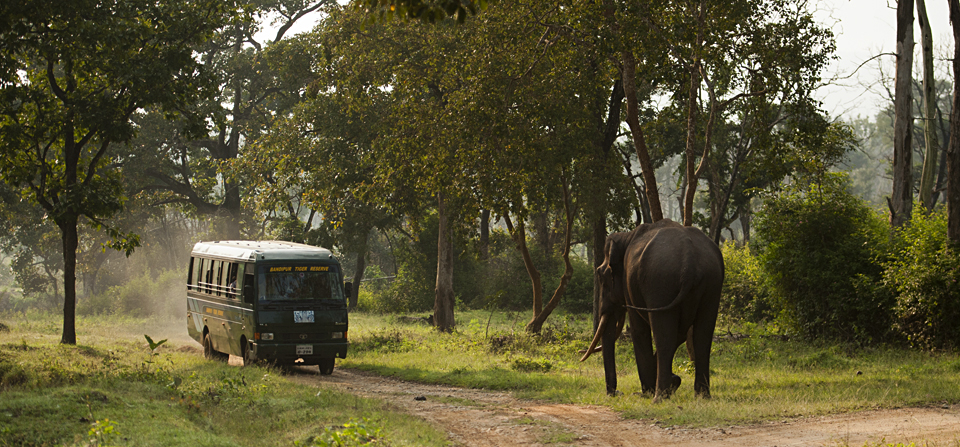 Bandipur Park is one of the fine places to visit close to Wayanad. The park location is known for the presence of large cats and elephants inside the huge wooded region cover that runs over a place of 874 so. Km. placed along the Mysore – Ooty highway within the Western Ghats, the sanctuary is an incredible weekend break out amid the enforcing presence of mountains and wealthy greenery.
Collectively with the Mudumalai herbal International Sanctuary, Wayanad herbal global Sanctuary, and Nagarhole Countrywide Park, it creates the most important biosphere reserve in India also known as the Nilgiri Biosphere Reserve. Skip around the multitude of teak and sandalwood wooden look ahead to you in the midst of breathtaking natural beauty. And it's truly a couple of hour's power from Wayanad. Don't tell me you haven't started out making plans a ride to Bandipur for the upcoming weekend already!